Hot Keys
Here you can create keyboard shortcuts for all items of the menu bar and tool bar at the AllSync main window.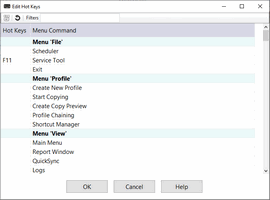 Click on a menu command at the list and press a key combination to set the shortcut for this item. Press the
DEL
key to remove the shortcut of a selected item. Using the key combination
CTRL + DEL
will delete the shortcuts of all items in the list.
The following keys can be used to create a shortcut:
CTRL
ALT
SHIFT
A-Z
0-9
F2-F12
Num0-Num9
Backspace
Enter (Return)
Insert
Shortcut examples:
CTRL + A
ALT + 1
SHIFT + L
CTRL + ALT + M
F2